Sometimes a hectic life can make self-care hard. There is always something else that needs to be done, a new "emergency" to tend to. The constant hustle can leave you feeling drained and neglected. Why not put a little of that self-care on autopilot? There are a number of excellent women's health and wellness subscription services that provide monthly pick-me-ups, that require very little effort. These subscription boxes offer great products that will comfort or inspire you. Avoid the hassle of traffic jams and long lines and let quality items come straight to your door. Here are ten of the best women's health and wellness subscriptions.
Related review: 10 Best Women's Clothing Subscription Boxes
1. FabFitFun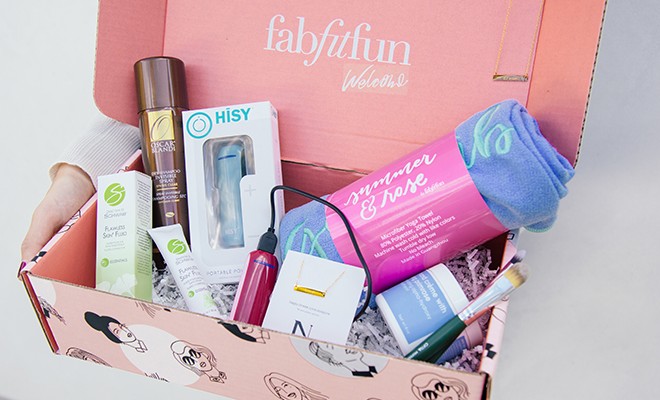 Who wouldn't want to get a $200 value every season for only $49? That's the deal you get when you subscribe to Fab Fit Fun. Each customizable gift box comes with full-size, premium products from brands like Pier One, Spongelle, Dove, Korres, West Elm, Grace and Stelle, and many more. In addition to the seasonal boxes, members have access to FabFitFun TV, member-only sales, and community forums.
2. Breo Box
If you like tech, you'll love the Breo Box. A subscription to Breo Box will bring you a box of quality tech items four times a year. Each hand-packed, curated Breo Box contains five to eight of the coolest tech, home goods, and lifestyle products like Fujifilm Instax Cameras, Ember Smart Mugs, or TRX Home Gyms. With incredible discounts in every box, your Breo Box subscription is an excellent way to get quality products at a great value.
3. Clean.Fit
Have you thought about eating "clean", but don't know where to start? Not sure what eating "clean" is? Eating clean is eating food with minimal processing and is credited with increased energy, weight loss, improved gut health. In our fast-paced, convenience-based society, sometimes eating clean can be difficult. Not with Clean.Fit. With Clean.Fit you can have clean snacks shipped to your home every month. You can even choose your box based on dietary preference: original, gluten-free, vegetarian, vegan, and dairy-free.
4. Fabletics
Refresh your workout style with a flexible Fabletics fitness apparel subscription. When you sign up as a Fabletics VIP member, you have the option to shop or skip each month. If you choose to skip before, you will not be charged for that month's membership, if you forget to shop or skip, you will have a credit of $49.95 to spend whenever you want. Fabletics has a wide selection of leggings, capris, joggers, sports bras, and coordinating outfits that are great for the gym or out on the street.
5. Bulu Box
The Bulu Box subscription is a curated experience designed to help you discover new health, nutrition, and weight loss products. Each monthly box comes with five to six premium samples of top brands, giving you the opportunity to find products that are right for you. Your Bulu box is customized based on the subscription selection. Select the Bulu Box that is right for you: original, weight loss, or burn blend box.
You may also like: 10 Best Beauty Subscription Boxes
6. Ritual
Imagine a vitamin that targets the gaps in your diet. Ritual is a monthly women's vitamin subscription that optimizes health by providing the nutrients you really need in bioavailable forms that your body can easily digest. Benefits include increased energy and immunity, skin tone and elasticity, blood and organ health, bone integrity, and healthy aging. Ritual is committed to open-source materials, showing you exactly where ingredients come from. Ritual also guarantees that their vitamins are vegan certified, gluten and allergen-free, non-GMO, and contain no colorants or synthetic fillers.
7. Fit Snack
Tired of reading "healthy" food labels only to find they contain just as much sugar or preservatives as a processed snack cake? Cut through the health food clutter with a subscription to Fit Snack. Each month Fit Snack will ship a curated box with tasty treats selected by an actual nutritionist. Your box will include some of the best brands on the market and will include a variety of products that are: high protein, low sugar, gluten-free, GMO-free, raw, organic, vegan, and/or all-natural snacks. Take the guesswork out of finding healthy snacks with this healthy snack subscription.
8. Gain[z] Box
When you subscribe to the Gain[z] box you select a plan and fill out your athlete profile. Each box is then customized especially for you. After you receive your box, you can fill out a quick survey and earn points towards free stuff. Boxes include items like Live Fit Apparel, UP TECH portable Bluetooth speaker, Juggernaut Training Systems Squat Manual, Ultima Replenisher electrolyte drink mix, and much more. Up your game with a Gain[z] box subscription.
9. Simply Earth
Subscribe to Simply Earth and receive $150 worth of essential oils and toxin-free ingredients for $39. Simply Earth will then send a new box each month designed around a different theme. With the Simply Earth membership, you will not only receive enough quality essential oils and toxin-free ingredients to make six luxurious recipes each month, but you will also have access to members-only sales and exclusive community.
10. BuddhiBox
The BuddhiBox is a unique subscription experience that caters to the yogi lifestyle. BuddhiBox is committed to the concepts of discovery, union, and compassion. Each month you will discover new things as BuddhiBox ships four to six samples and full-size products to your door, if you like them you can order more from the website. BuddhiBox also donates proceeds from monthly subscriptions to worth non-profit organizations. Enjoy your monthly yoga box while providing a helping hand to others.
As you can see, there is something out there for everyone. Find the subscription service that works for you and enjoy the pleasure of receiving a curated box delivered right to your home. Self-care has never been so easy.
Related review: 10 Best Essential Oil Kits
By BCR Staff
September 2019