Courtesy of countless men's grooming subscription boxes, guys' excuses for not looking good are slowly disappearing. Since a few clicks are now enough to obtain an entire package of outstanding products, taking one's physical appearance to the next level has never been easier. Not to mention the fact that men do not even need to possess much knowledge about grooming supplies. Instead, they can simply allow specialists to hand-pick everything for them. So, what are some of the best subscription boxes that guys should look into?
Related review: Top 10 Best Gifts for Men
1. Dollar Shave Club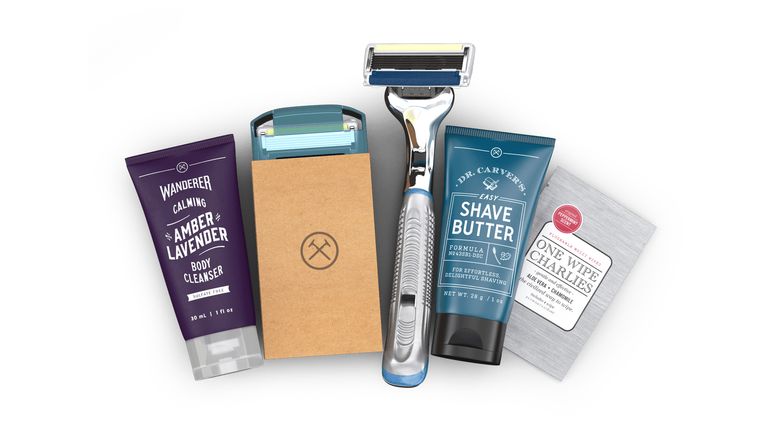 Dollar Shave Club has been the leader of the men's grooming business for quite some time. As one of the pioneer companies that jump-started the trend of subscription-based grooming services, they have some of the most loyal clients in the market. Anyone interested can build their box by selecting the type of products that they need and choosing the restocking frequency. While most customers get their supplies restocked four times a year, it is possible to choose practically any number of deliveries.
2. FabFitFun
Although Fab Fit Fun is more of a gift box, it has some of the greatest items for guys who like to take care of themselves. Besides typical grooming creams, however, the box also features things like BlueTooth earbuds, socks, and multi-use tools. Hence why using a Fab Fit Fun box as a gift is quite common. Unfortunately, customers residing in Alaska and Hawaii will not be able to place orders due to shipping restrictions. Everyone else, however, can take advantage of the express delivery and get their customized package fast.
3. Birchbox Man
Birch Box goes a bit beyond simply offering a grooming box. They try to help guys fall in love with the process of grooming by including useful tips and tricks. Each buyer needs to fill out a custom grooming profile that will show their habits, allergies, and general lifestyles. Based on the data, specialists comprise a box that could include everything from beard oils to allergy-friendly soaps. Birch Box also offers a reward program for their subscribers by giving them $1 for every $10 that they spend. Besides, new members are eligible for a gift package.
4. Skinsei
Before signing up for Skinsei's membership, everyone must complete a quick diagnosis. Since the company specializes in skincare, the pre-screening allows them to gauge the type of issues that people may have with their skin health. Based on the responses, they show a list of products that can help combat such issues. These include microbiome friendly and pH-balanced formulas that have a high count of nourishing prebiotics and plant extracts.
5. Harry's
Harry's is a company that relies on a team of over 600 engineers to develop some of the finest blades and shaving creams. With over 10 million users who tried some of their products, they are amongst the best beard grooming subscription services. The way that they have been able to corner the market is through low-cost items where people can subscribe for as low as $2 per blade. Not to mention that each package will ship for free. Men who want to test the service can get a discounted trial package.
You may also like: 7 Best Beer Subscriptions
6. Scentbird
For a grooming box to be well-rounded, it needs to include some type of smooth and long-lasting fragrance. Unfortunately, choosing a scent is very subjective as everyone has different preferences. This is where Scentbird can come in and help put an end to guys' struggles with cologne shopping. With over 500 options, Scentbird has the most versatile catalog in the market. People who want to sign up simply need to choose what types of items or brands they like. The company will follow up by shipping a monthly supply of scents for a low subscription fee.
7. Bespoke Post
Finding a business that offers themed products is fairly difficult. Finding a company that offers products with manly, vintage, and timeless themes, however, is borderline impossible. Bespoke Post is one of the rare providers who do this. Their fully customizable boxes have everything from elegant bags and grooming creams to wooden headphones and barware. One can also order a package that is full of camping goods such as axes, knives, and similar. Subscription is completely free and each box is based on an initial survey.
8. Bulldog Skin Care
Going back to more traditional options puts the spotlight on Bull Dog Skin Care. After completing a two-minute survey, customers will be able to save 15 percent by signing up for one of the best men's skincare subscription offers. Due to these savings, which also include free shipping, every buyer is limited to two active subscriptions. The products are quite diverse as they come from categories of shaving, general body care, and grooming tools.
9. Tiege Hanley
With an average review of 4.7 out of 5 stars, Tiege's buyers have one of the highest satisfaction rates in the industry. The packages revolve around affordability as popular brands that are included cost anywhere from 20 to 50 percent more in the regular market. Buyers can also customize the delivery schedule or cancel their orders without penalties. Depending on someone's skin type, the company will offer one of the three levels of subscriptions. The highest level is built to combat things like crow's feet and wrinkles.
10. The Beard Club
Even though it has not been around for as long as most of the other brands here, The Beard Club has one of the best men's shave subscription boxes. By developing its platform through social networks such as YouTube, the company was able to overcome the barriers to entry. Their outstanding products subsequently helped them build a high retention rate with thousands of satisfied buyers. Each shaving kit is based on someone's preferences and packages can also include things like shower or skincare items.
Since these ten options mostly focus on various types of grooming, it is not uncommon to see people sign up for multiple offers. After all, in order to find the best men's grooming subscription box, one may have to get creative and build their own!
Related review: 10 Best Beard Oils
By BCR Staff
September 2019