If you love spicy foods, the best hot sauce subscriptions are a fun way to discover new flavors. These services specialize in finding the newest, tastiest hot sauces from around the world — then, they send them to you each month. If you don't live near specialty food stores, or if you simply want to find the latest and greatest sauces from around the world, this is a great way to do it. A subscription service takes all the work out of the process; all you need to do is wait for your box to arrive. Have a friend who's difficult to shop for? A hot sauce of the month club is a fun way to expand their palates and treat them to a fun surprise.
Related review: 7 Best Beer Subscriptions
1. Heat Hot Sauce Shop Subscription
Discover the most exciting hot sauces in the world with the Sauce of the Month subscription from Heat Hot Sauce Shop. We love this service because it's run by an independent shop that operates out of the San Francisco Bay Area. Each month, the self-proclaimed "chile head" owners pick the newest and most delicious hot sauces they can find. Then, they share them with subscribers. Since the owners are passionate about hunting down sauces from across the globe, this means that you get to try flavors you'll never run across in your hometown grocery store. Best of all? You can choose from a variety of spice levels — go with the Mild and Medium option if your taste buds are delicate, or opt for the Extra Hot subscription if you can handle the heat. Not sure where you fall on the taste spectrum? You can choose the Classic service and be surprised every month. This subscription allows you to choose one bottle or three bottles; you can receive them monthly or quarterly, depending on your needs.
2. Fuego Box Hot Sauce Club
If you're hoping to find new hot sauces from around the world, the Fuego Box Hot Sauce Club is the way to go. The owners of this hot sauce gift box service search the globe to find the most delicious sauces. Then, they narrow down the selections and choose the very best options to send out to members. With three subscription levels, it's easy to find the right option for your household. Not sure if you're ready for a stock of hot sauce? Choose the Dip Your Toe In box, which includes one bottle. The Pain Seeker package includes two bottles, and the Sauce Lover option includes three. Keep in mind that the Pain Seeker option focuses on extra-hot sauces, while the other two vary between mild and hot. We love that you can choose to receive a box every month or three months. If you pride yourself on discovering the most unexpected and obscure hot sauces, the Fuego Box is a fantastic choice; it also makes a fun gift.
3. Flaming Licks Hot Sauce Subscription Box
The Flaming Licks Hot Sauce Subscription Box is run by Farehouse Trading Co, a company based in the United Kingdom. This service focuses on hot sauces that are made in the U.K. — a great option if you want to find options that you can't get at home. Although this is a U.K.-based service, you can ship to the United States or Europe for a small extra fee. The best part? This box includes more than just hot sauces. It also comes with other spicy products, such as chili jams, marinated, and chutneys. You'll also get a snack that's loaded with heat. Each shipment comes in a fun box printed with flames, so it makes a festive gift. Want to buy additional products from the online store? Your subscription includes free shipping for anything you order. Choose to receive a box every month or every other month.
You may also like: 10 Best Cheese Subscriptions
4. Heatonist Hot Ones Box
If you're a fan of the Hot Ones web series, the Heatonist Hot Ones Box is a must-have subscription. This box is focused entirely on the show — it's packed with the sauces and products you recognize from your favorite episodes. In fact, when you subscribe, you can try the sauces that are featured before anyone else. Plus, when Hot Ones releases its own products, you get to taste them before they're released to the general public. Want to exert your influence? You can even cast your vote for next season. To take your fandom a little further, the Heatonist box also comes with recipes that come straight from the cast, crew, and guests of Hot Ones. We love the exclusivity of this hot sauce subscription — in fact, the company only allows you to buy one per order. If you need more, you'll need to order separately. Keep in mind that the sign-ups are date-specific, so be sure to order quickly to make the monthly deadline.
5. Amazing Clubs' Hot Sauce of the Month Club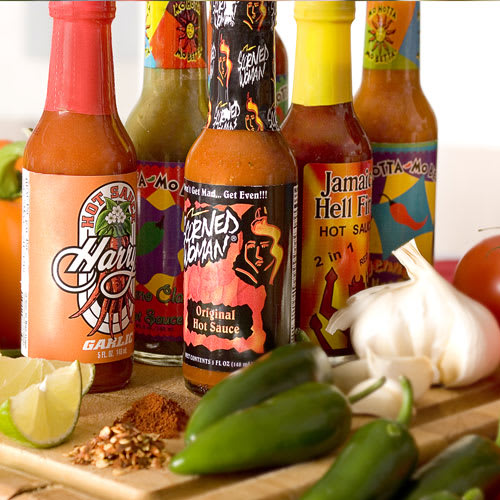 Explore different artisan sauces with this hot sauce of the month club. Each month, you'll receive one or three bottles. This club is designed to expose you to a wide range of flavors and production types, so you might just discover a new favorite. Shipping is included in the price of the service. When you order, make sure to choose the spice level — you can choose from mild/medium, classic, and extra hot. The best part? This service makes a point to choose sauces that are distinctly different from each other, which means that you always have something new to try.
When you're looking for a way to jazz up mealtime, a hot sauce of the month club is a fun way to go about it. All you need to do is order — then, a selection of sauces appears at your door every month without fail. By choosing from the best hot sauce subscriptions on the market, you can rest assured that you'll be exposed to the most exciting and delicious sauces from around the world.
Related review: 10 Best Wine Subscriptions
By BCR Staff
September 2019