When you're shopping for a gift for a cheese-lover — or yourself — the best cheese subscriptions are the perfect choice. Each shipment includes new types of cheese, so you're always exposed to different varieties and styles. If you have an adventurous palate, this is an excellent way to expand your tastes; if you're new to cheese tasting, a subscription can help you build expertise quickly. As you're searching through different options, consider which service best fits your tastes. If you're feeling bold, an international cheese subscription might be a great fit. To help you find out what's available, we've gathered the 10 best options on the market.
Related review: 10 Best Wine Subscriptions
1. Hand-Crafted Artisan Cheeses
If you're a fan of unique cheese, the Hand-Crafted Artisan Cheeses subscription is a great fit for you. This service, which is run by The Gourmet Cheese of the Month Club, includes cheeses from around the world. Each one is hand-selected by a cheese professional that travels around the world to find different selections. This club is a great way to learn more about the intricacies of cheesemaking — each shipment includes a detailed description of the cheese and how the maker achieved the specific flavor profile and texture. With the notes, you can learn exactly how small changes to the process can have big results in terms of taste.
2. Curdbox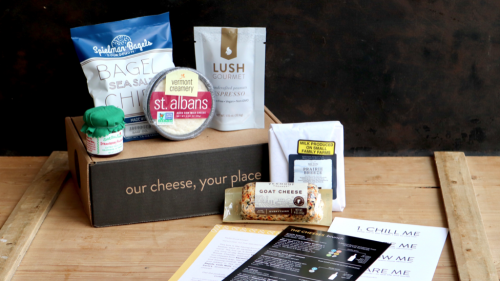 One of the best cheese gift box options is Curdbox, a fun service that delivers a variety of cheese options. Each month, you or your recipient will get three cheeses as well as three specialty foods. Each pairing is carefully selected to maximize the flavor of both the cheese and the food. Plus, using the included card, you'll be able to explain why the profiles work so beautifully together. We love Curdbox as a gift for someone who loves to entertain — it's also a great way to switch up your cheese board during dinner parties.
3. Amazing Clubs Cheese of the Month Club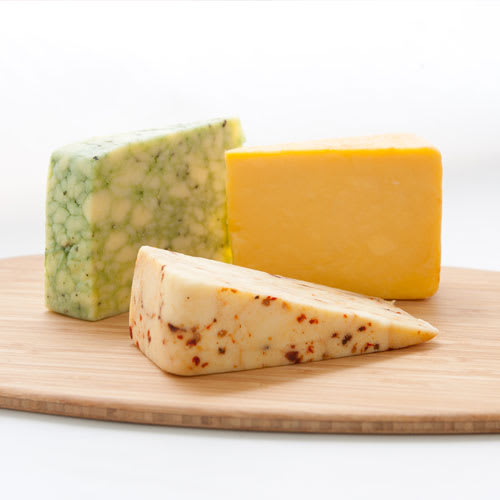 Amazing Clubs has an excellent reputation in the subscription world, and their Cheese of the Month Club is no different. This club sends three different cheeses each month; each one weighs ½ pound, so you have plenty for tasting or sharing with friends. This club specializes in products that are made from raw milk in a classic farmhouse style. You'll get options from around the world as well as around the United States. Not sure that you need that much cheese? No problem — you can opt to receive a seasonal box every four months.
4. Murray's Cheesemonger's Picks Cheese of the Month Club
Ready to expand your cheese-tasting palate? Head straight for the Cheesemonger's Picks Cheese of the Month Club. Each cheese that you receive is chosen by an expert cheesemonger; the goal of the club is to find the most delicious and most adventurous cheeses from around the world. This gourmet subscription is perfect for adventurous tasters or people who love to delight their friends with unexpected snacks. Plus, with the month-to-month option, you can cancel any time.
5. Igourmet.com International Cheese of the Month Club
Do you love to travel and try new foods? The igourmet.com International Cheese of the Month Club is a delicious option. When you order, you'll get three different cheeses from around the world each month. Many months have a theme — you might get three selections from Italy, for example, or you might get three different examples of a specific type of cheese. This service is a fun way to learn more about cheese, whether you're a newbie or an expert taster.
You may also like: 10 Best Beauty Subscription Boxes
6. Wisconsin Cheese of the Month Club
Discover the wonderful world of domestic cheese with the Wisconsin Cheese of the Month Club. As its name suggests, this subscription focuses on cheese from Wisconsin. The monthly shipments include three pieces of cheese, each ranging from 1.5 to 2 pounds. This subscription comes in three-month increments, so you can try it out for a quarter of a year to start. Since each shipment comes with a tracking number, you can always keep an eye on your cheese.
7. Formaggio Kitchen Monthly Cheese Selection
One of the best cheese-of-the-month club subscriptions on the market, the Formaggio Kitchen Monthly Cheese Selection is an ideal choice for brave tasters. Run by experienced cheesemongers, this service includes three seasonally appropriate cheese selections each month. With a focus on a variety of flavors, textures, and types of milk, this service is a fantastic way to learn more about the range of cheeses that are available. When you sign up for this club, you can order monthly shipments for various ranges of time; it makes a great gift or a treat for yourself.
8. Pastoral Cheese of the Month Club
Run by Pastoral Artisan Cheese, Bread, and Wine, this cheese of the month club is a fun way to expand your tasting palate. This club includes domestic and international cheeses — since you get one per month, it's a convenient way to try new flavors without becoming overwhelmed by the selection. The membership fee includes shipping costs, so you don't need to worry about add-ons. Don't want to wait for your shipment? If you live near a Pastoral store, you can stop in to pick it up in person.
9. The Tasting Board
If you have specific taste preferences, The Tasting Board's cheese subscription is a good option. Before you receive a shipment, you take a taste palate survey — then, the service only sends cheese that match your palate. Don't like one of your cheeses? Just talk to your Cheese Concierge, and they'll send you a new option for free. With these personalization options, this service is a great choice for picky cheese-eaters.
10. Valley Shepherd Creamery Cheese Club
The Valley Shepherd Creamery Cheese Club uses a unique selection process. Each month, tasters go into the creamery's cheese cave for a tasting. Then, they send their top three favorites to you. Along with your shipment, you get tasting notes and a condiment that upgrades your cheeseboard. Planning to entertain? Opt to have a charcuterie selection to replace one or more of the cheeses.
With a cheese-of-the-month club, you can indulge your love of cheese without stepping into a store. These services deliver a range of delicious varieties, so you can discover new flavors. By choosing from the best cheese subscriptions, you can rest assured that you'll receive only the finest cheeses.
Related review: 30 Great Creative Gifts for Coffee Lovers
By BCR Staff
September 2019