Beauty subscription boxes are an easy and fun way you check out some of the hottest products at home. Most boxes include a combination of full-size and trial products, though some come with other products such as makeup bags that you can also use. You might even get new brushes or other accessories for use with those products. If you're tired of wasting money on makeup and skincare products that don't work or aren't suited for your skin, give some thought to these boxes. The 10 best beauty subscription boxes can change the way you think about makeup and beauty products.
Related resource: 10 Best Contouring Palettes
1. Ipsy
One of the oldest beauty boxes around is ipsy, which is still one of the most popular. The glam bag subscription package gives you five new products and a brand new makeup bag each month. Though you typically get trials and samples, you may get some full-size products too. As a member, you can also sign up for ipsy shopper, which lets you save 10% or more on the beauty and skincare products that you buy from the site.
2. Birchbox
A major competitor to ipsy is Birchbox. As a new member, you can use the Birchbox app on your phone or the account you set up on the website to fill out a survey. This tells the company what types of products you use and which types you don't like as well as your coloring and skin type. Birchbox uses that information to custom create a box designed just for you each month. You can sign up for special and limited edition boxes too.
3. Target Beauty Box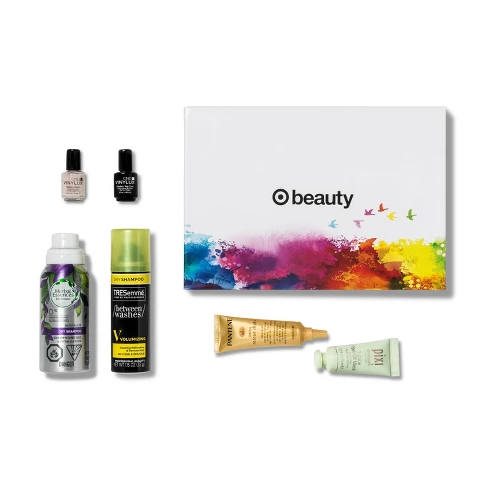 One of the most affordable beauty boxes is the Target Beauty Box, which you can buy online from the store. A new cosmetics box comes out every month and features six trial-size items. The store uses a theme each month such as holiday celebrations or summer festivals and bases all the products around that theme. In addition to lipgloss and other makeup, your box may feature deodorant or masks that you can detox your skin. Target lets you see the contents of the box before you buy too.
4. Clean Beauty Box
A popular skincare subscription box is the Clean Beauty Box. It helps you try out new products before you buy and see which ones are best for your skin. All the products come from manufacturers committed to creating cruelty-free products that do not test on animals. When you sign up, you answer a few questions and get your first box shipped the following month. Most of the products found in the box will last for a week or more.
5. Walmart Beauty Box
Walmart offers a highly affordable beauty subscription box that features various products. You only need to pay a shipping and handling rate to get the box shipped to your home. Most boxes come with a fabric makeup bag filled with three to five products. Instead of giving you just makeup though, Walmart looks for skincare products such as lotions and masks. Most of the products in the box let you sample a new product once.
You may also like: 10 Best Nail Care Kits
6. Fab Fit Fun Box
You might know the Fab Fit Fun name for the company's line of athletic wear, but it now makes a fun subscription box that you might like too. This box comes out on a seasonal basis and lets you use the site to decide whether to buy each season's box. Fab Fit Fun guarantees that you'll get more than $200 worth of products from each box. Instead of samples and trial-sized items, each box comes with up to 10 full-size beauty and skincare products.
7. BOXYCHARM Box
BOXYCHARM offers an affordable beauty box that gives you products worth more than $100 every month. DC and Skin & Co. are just some of the companies that provide products for this box. You can buy a single box or purchase a package and get between three and 12 boxes over the coming months. BOXYCHARM reduces the cost of each box when you sign up for one of the larger packages. You can also sign up for a more expensive box that includes products from luxury brands too.
8. The Ox Box
If you have sensitive or easily irritated skin, you might prefer the non-toxic products contained in The Ox Box. New boxes come out every season, and if you become a full-time member, you'll have those boxes instantly delivered to your home. The box comes with a minimum of six full-size items that are worth $250 or more. Some boxes come with up to 10 different products. When you answer a survey on the site, the box will come customized to fit your needs.
9. purp-ess Box
When you purchase one of these affordable boxes, you can feel good about yourself because a portion of the proceeds goes back to those in need. This box comes in two versions: Splish Splash and Lathered. Designed for religious women, the box comes with a spiritual message that connects to the theme of the box. You can use the products inside as you take a relaxing bath or a quick shower. You'll get products such as bath bombs, homemade soaps and sugar scrubs.
10. TestTube by NewBeauty
TestTube by NewBeauty is a subscription box designed to provide customers with luxury beauty and skincare products in trial sizes. The curators working for the company choose a unique combination of products each month that fit the needs of a wide range of women. You can buy one box at a time or sign up for packages that include three to six boxes. The company ships new boxes every other month. Each box can come with up to 10 products, including some full-size items.
Related resource: 10 Best Gel Manicure Kits
BCR Staff
June 2019
More Articles of Interest: