Whether you're merely freshening an existing wardrobe or starting from scratch, the best bohemian earrings can add a note of interest. The bright color schemes, interesting shapes, and unique handcrafted appearance lend this fashion immediate appeal for many. Shopping online can often be more expensive because of the format, the plethora of options, and the unlimited time in which to view objects that have been staged in an appealing way. In order to focus your search for great accessories, we've compiled a list of the top ten boho earrings. Whether it's the beginning of your accessories quest or you find precisely what you're seeking, it will help to direct your energies in the right direction.
1. Handmade Teardrop Pendant Earrings by DIDa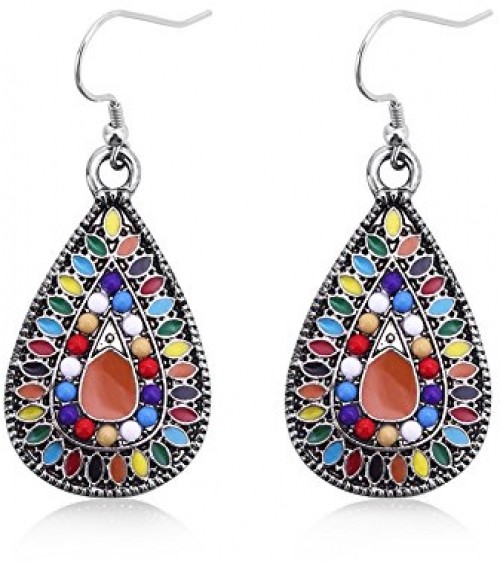 Sterling silver hooks keep these beauties hypoallergenic. The pendant, which reaches less than two inches in overall length, is made from thinly pounded copper. Even with the brilliant beading, these earrings are lightweight and won't damage the wearer. Exquisite facing details include a crafted metal border, with cat's iris beads forming an outer band around the entirety. Perfect spheres surround a heart of flame, ensuring that these handmade earrings will steal the show no matter where they're worn.
2. Chuvora Jewelry and Long Drop Gemstone Earrings
Whether the occasion is formal or casual, these gorgeous 18-K gold-plated earrings add a note of relaxed elegance. The hooks blend seamlessly into simple brush stroke golden earrings from which pear-shaped gems are suspended. The color of a tranquil Caribbean sea, the gems are faceted and brilliant, adding a perfect touch of feminine beauty to any ensemble. In order to keep them looking their most gorgeous, they come in a special black velvet jewelry pouch that will protect them from exposure to the elements.
3. Baroque Rhombus Drop Earrings of Printed Wood from Bonaluna
For those who crave the relaxed sophistication of baroque earrings paired with the modern sensibility of conservation and upcycling, these cheap boho earrings are sure to delight. Dangling just over two inches from yellow gold-plated hooks and measuring slightly more than an inch at their widest point, these gorgeous earrings are printed patterns of vivid color on recycled wood. That also makes them comfortable and light to wear for long periods of time. With a finely crafted chain pattern border, these rhombus pendants make a perfect gift, for a treasured girlfriend or yourself.
4. Set of Colorful Bohemian Earrings by Tamhoo
For those who love to announce their joyful personality at first sight, these cheap bohemian earrings are ideal. Not one pair but 11 unique and brilliant tassel pendants, thread balls, tiered drops, and happy pompoms will be delivered at the touch of a button. There's no end to the variation and combination of outfits you can pair with these, so have fun. The plating on the hooks helps to mitigate any irritation usually caused by brass settings, so worry not with these lightweight, frolicksome baubles.
5. Holly Yashi Golden Petra Earrings
The hand-hammered detail of these gold-plated earrings lends a soft glow of sophistication without the hefty price tag of solid gold. It also won't weigh down the wearer as that solid golden metal might, but permits women and girls to wear beauty with comfort and a lightness of being appropriate to the bohemian sensibility. The plating also prevents tarnish and undesirable green skin discoloration as well as any allergic reactions to baser metals. The artisans at Holly Yashi in California craft these beautiful earrings in small batches to ensure they maintain their unique appearance and gorgeous character.
You may also like: Top 5 Best Perfumes and Scents
6. Retro Bohemian Ethnic Drop Earrings by Eternity J.
These gorgeous drop earrings reflect an older design sensibility while being crafted from all new materials. The metal hooks and main teardrop support traditional chain and leaf pendants are crafted from materials intended to look like jet and bronze. Fine vine and flower detail around the main pendant's central black stone is sure to draw plenty of admiration no matter to what occasion one wears them. These vintage earrings immediately echo Bohemian sensibilities well known from the late 19th and early 20th centuries that influenced movements such as Art Nouveau.
7. Purple Turquoise Teardrops from Chuvora
With hooks and settings made from 925 oxidized sterling silver, these earrings are both lovely and hypoallergenic. This particular type of sterling is one of the purest, and the lovely curving details truly shine against the gorgeous damson hues of the stones. An angular teardrop shape adds further interest to these beautiful bohemian earrings, which can be worn for any occasion.
8. HisJewelCreations' Leverback Crystal Drops
These beautiful art deco-inspired crystal drops won't simply draw stares, they'll hold them. The delicate metalwork is rich with detail and clasps crystal cut to evoke the spirit of the Rainbow. Blue accent crystals top the beautiful drop and lead the eye to a crafted hook clasp that will hold these 1.14-inch drops securely in place.
9. Delicate Natural Leaf Filigree by SPUNKYsoul
Nature's beauty is rarely preserved so finely. These natural leaves are electroplated with gold, which freezes their ephemeral grace and loveliness at the moment of disappearance. Each leaf measures between two and three inches in length, and because these earrings are crafted from organic material, no two are precisely identical. Pair this fleeting beauty of winter leaves with casual or formal attire and draw praise wherever you go.
10. Chuvora's Reconstructed Gem and Sterling Drop Pendants
Using one of the purest forms of sterling silver, these drop pendants shine brightly with any ensemble. Relying on a beautiful detail of organic spiraling stems, the detail work of the 925 sterling frames the saturated color of reconstructed gemstones, such as lapis or turquoise. No matter whether the occasion is formal or casual, these bohemian earrings will draw admiring gazes and compliments.
Bohemia refers to a region of eastern Europe and a culture that is mostly unknown to many modern, western individuals. But while its history may not be fresh, the styles, aesthetic trends, and tropes so prevalent in jewelry from that region continue to attract new appreciation. Often, a specific aesthetic will lend itself to either formal or casual apparel. However, with the best bohemian earrings, both dressy occasions and everyday errands are highlighted.
Related Rankings: